When we redid the Kitchen I knew I wanted to include some subway art. As I put the second coat of black on the end of the cabinets I knew it needed prayers in vinyl. I could see it all in my head. Well, I finally got the time to make it happen. So here are some of my favorite meal time prayers.
First is the prayer we use all of the time. I didn't really know that other people didn't always use this prayer until I was about 13. It goes...
COME LORD JESUS BE OUR GUEST, AND LET THY GIFTS TO US BE BLESSED.
Second is a prayer that hangs in my Mother's kitchen to this day and I always loved. I thought it was quite the achievement when I was allowed to use it at the dinner table. It is...
THANK YOU FOR THE WORLD SO SWEET, THANK YOU FOR THE FOOD WE EAT. THANK YOU FOR THE BIRDS THAT SING. THANK YOU GOD FOR EVERYTHING.
Third is a prayer I found when I googled meal time prayers and loved. I am from German descent and thought it was awesome they had translated it in German also. So here it is in English, then German...
ALL THAT WE HAVE ALLES DAS VIR HABEN
IS A GIFT ALLES IS GERGEBEN
IT COMES OH GOD FROM YOU ES COMT O GOTT VON DIR
WE THANK YOU FOR IT WIR DANKEN DIR DAUFER
The fourth and final prayer came from a friend and I just love it too. It says...
LORD WE THANK YOU FOR THE FOOD BEFORE US, the friends beside us, THE LOVE BETWEEN US, AND YOUR PRESENCE AMONG US.
I love the way they all look together I had a great time putting it all together. I hope you like it half as much as I do.
Family meals have always been a part of my life. I remember very few times we didn't eat dinner all together around our dinner table growing up, and am doing my best to make sure my boys have that same experience. Thanks for stopping by and have a blessed day.
Linking up at: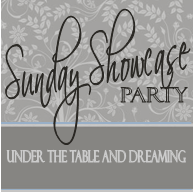 Sisters of the Wild West: Sister Sunday Link Party