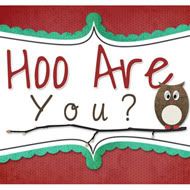 Here are this week's questions!
1. What are your favorite 3 things about fall?
I love the cooler temps. I live in TX so cooler means high in the 80's but I am thrilled to have it. I also enjoy getting back to the routine of it fall. With school starting and football practice I get into a routine and I love to have a regular routine. The best part about fall is the coming holidays. I love Thanksgiving and Christmas!!!!
2. Are you a football fan and if so who is your favorite team?
I love football. I graduated from Permian High School (yes, the Friday night lights school) so football is kinda a big deal. I love to watch my son play the most. He is only in pee wee football, but I love it. I guess my favorite team is "Da Bears". Well for now. I tend to pick favorite players and follow them. I know I am weird. LOL
3. What is your favorite fall scent?
Pumpkin pie spice. MMMMMM Yay for fall!
4. So you have seasonal allergies?
Yes Yes Yes! I am stuffed up this morning and will be for the next few months.
5. Have you started Christmas shopping yet?
LOL I start in Jan. I am one of those crazy people. I look for Christmas gifts all year round. I love to give the "perfect" gift not just a gift, and that just takes time. ;)